About Food Safety Training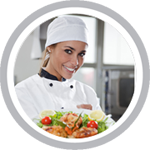 Our food safety training and certification courses are accredited by the American National Standards Institute (ANSI) and are a benchmark for the food industry.
ANSI accreditation helps assure quality and safety of food products, systems, services, and personnel.
Contact Us
Customer service is an integral part of our job and we take it seriously. Our company's most vital asset is you – the customer.
See our Frequently Asked Questions (FAQs) to answer most questions.
Live 24×7 Support:
1-877-881-2235
www.360trainingsupport.com
For additional questions, please use the contact form below: